STABILITY AND GROWTH PACT (SGP)
October 10, 2023
2023-10-10 14:42
STABILITY AND GROWTH PACT (SGP)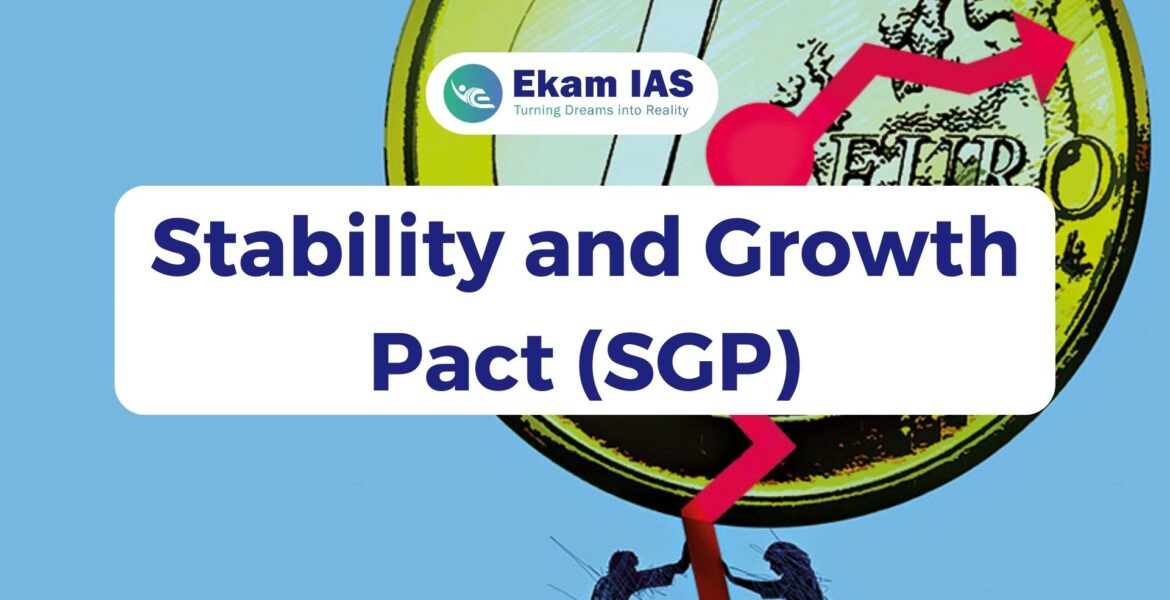 STABILITY AND GROWTH PACT (SGP)
The Stability and Growth Pact (SGP) is a binding diplomatic agreement among European Union (EU) member states. Economic policies and activities are coordinated cohesively to safeguard the stability of the economic and monetary union.
MAIN FEATURES
The Stability and Growth Pact (SGP) is a set of fiscal rules designed to prevent countries in the EU from spending beyond their means.
A state's budget deficit cannot exceed 3% of GDP and national debt cannot surpass 60% of GDP
The European Commission and the Council of Ministers issue an annual recommendation on policy measures and survey member states in order to keep each nation compliant with budget regulations. According to the agreement, countries that break the rules for three consecutive years are fined a maximum of 0.5% of their GDP.
The SGP is criticized for its strict fiscal rules, lack of compliance, and perceived favoritism toward certain nations.
PREVIOUS YEAR QUESTION
Consider the following statements :                                      (2023)
The 'Stability and Growth Pact' of the European Union is a treaty that
limits the levels of the budgetary deficit of the countries of the European Union
makes the countries of the European Union to share their infrastructure facilities
enables the countries of the European Union to share their technologies
How many of the above statements are correct?
(a) Only one
(b) Only two
(c) All three
(d) None

Watch the video explanation of the topic 'Stability and Growth Pact (SGP)'.
To UPSC-standard MCQs, join our Telegram Channel.
To get years of subjectwise-segregated newspaper articles, join our subjectwise Telegram Channels.
Join our 140k+ YouTube community to watch free classes on various UPSC related topics.
Follow us on Instagram for UPSC updates.
Click here to read more UPSC Current Affairs.
---
Ekam IAS is the oldest online IAS institute in Kerala. We've years of experience in mentoring and teaching students all over the nation, helping them achieve their UPSC-dream through the right guidance, strategy, and precise content. Join Ekam IAS and turn your UPSC-dream into reality.
To learn customizable preparation strategies, book an appointment with our UPSC-expert. Book Now.